In the municipality of Lier in Norway, the recently opened Fosshagen nursing home has a new take on caring for our elderly. The already much celebrated building is set in a playful landscaping design that adapts to its sloped surroundings. Streetlife is proud to have made a contribution to these lively gardens.
Celebrating the rich contribution the elderly have made to our society means taking good care of them. Not just medically physical care, but also by providing comfortable, pleasurable and inspiring surroundings. The architect and landscape architect of Fosshagen nursing home took this task quite seriously.
Norconsult Solem Architektur designed a sensory garden containing over 100 different plants and crops. The playful layout of the garden is dignified by the combination of strong circular and linear elements. Tying the sloped surroundings and the rectangular building together. The dynamics of these geometrical shapes are emphasized by the use of Streetlife products.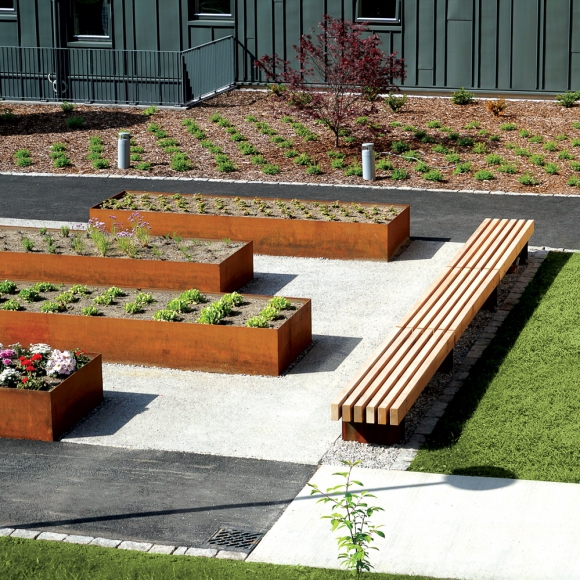 An eight meter long Rough&Ready Curved Bench defines the boundary of a slope, whilst the centre of the garden is marked by a Free Forms Tree Isle with integrated Rough&Ready seatings. On one side of the garden geometric high steel planters are placed and complemented by the linear Rough&Ready 6 Benches. On the other side a round Solid Podium Isle focusses on the fluid movements in the garden. Hardwood street furniture turns the garden into a social meeting area.
Streetlife's street furniture and tree products use standardized wood sizes and high grade weathered CorTen steel, ensuring a warm and natural appeal. The strong coherence in the garden design is mainly due to the consequent use of high quality materials.