The Rough&Ready 6 Benches are sturdy and robust. The beams made of durable FSC® hardwood are 15 cm - 5.9" thick. They are fixed to the supports by means of our stainless steel and theft-proof Streetlock® comb system. The Streetlock® system affords the benches an extremely long lifespan because the beams can be turned over after 10 to 12 years. The optional backrest is convexly planed and can be fixed at various positions along the length of the bench.

R&R-6 bench of 6 FSC® hardwooden beams with rectangular supports which can be linked to create endless linear arrangements. All Black benches are available in lengths of 200 cm and 250 cm - 79" and 98". Some air inclusions at the beam heads are unavoidable.

The R&R 6 Benches are available with a low backrest which gives comfortable support to the lower back. The high backrest with comfortably rounded off beams is positioned asymmetrically. In combination with stainless steel armrests, this bench can be modularly adapted to suit many different local regulations.

Products supplied within the North American market are fully manufactured in the USA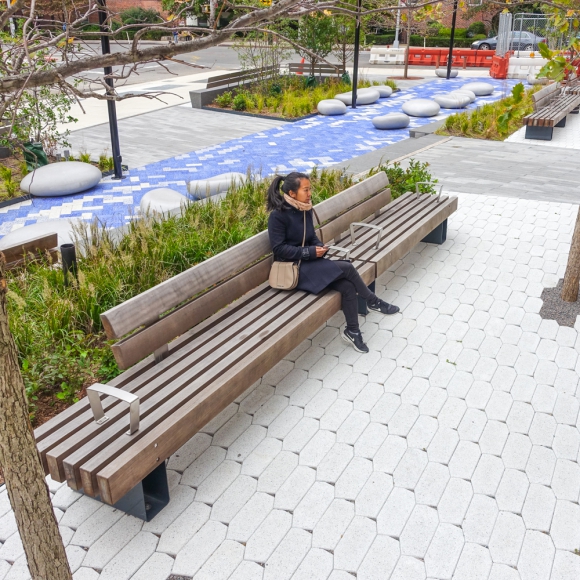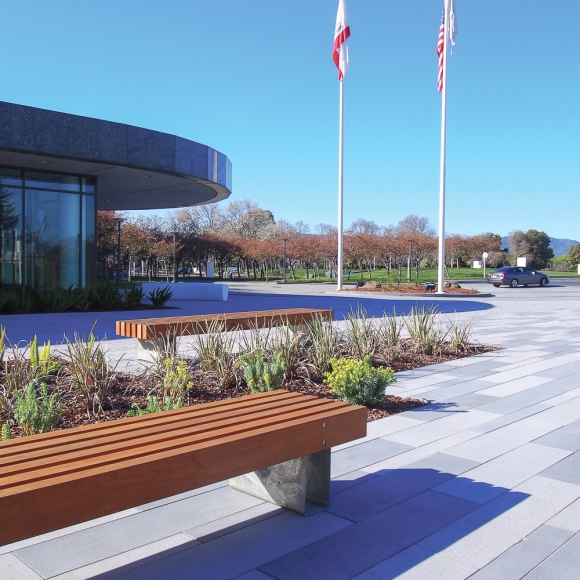 Possibilities and restraints
Available in standard lengths of ca.234 or 300 cm | 92" or 118"
On request available in custom lengths of up to ca.300 cm | 118"
Longer setups are possible with extension modules
Optionally available are armrests or several types of backrests
Optionally a LEDbox is available to house the drivers for LED lighting together with making provisions in the wooden beams for LED strips
By default in galvanized steel (-TH), optionally steel parts in untreated weathering steel (-CT) or finished in a double layer powder coating (-PC)
Also available in All Black composite material (-AB, max. beams length 250 cm | 98")