The Bowie Bridge was inspired by the David Bowie song 'Wild is the Wind'. The continuous fencing system of criss-crossed balusters, uninterrupted by posts, creates a fascinating image. The round, stainless steel balusters have varying diameters (max. 30 mm - 1.2"), which results in a particularly stiff, strong fence.

This fencing was specifically designed to prevent the possibility of users getting stuck between the balusters. If desired, the baluster pattern can be made denser in order to meet the most stringent safety standards. The Bowie Bridge is available in a slightly arched or flat version. The bridge's maximum, uniformly distributed load-bearing capacity is 5 kN/m².

Bowie Bridges are available in a CorTen or coated steel version in which the round balusters are replaced by CorTen steel strips. The CorTen balusters have varying widths resulting in a strong and rigid fencing structure. A robust rounded handrail of FSC® hardwood sets off the fencing and is pleasant to the touch.

Products supplied within the North American market are fully manufactured in the USA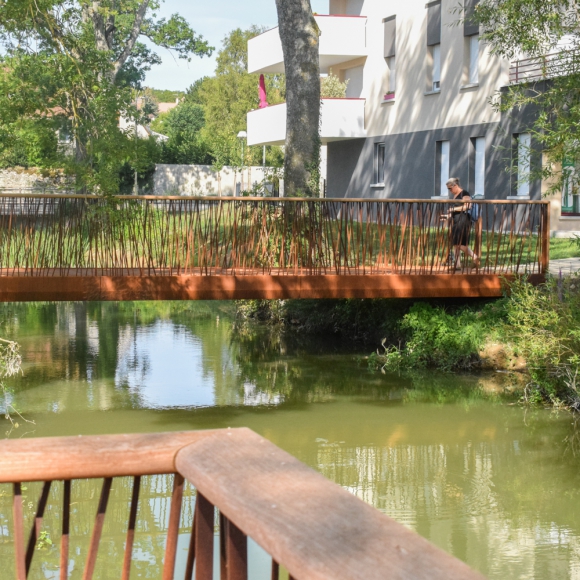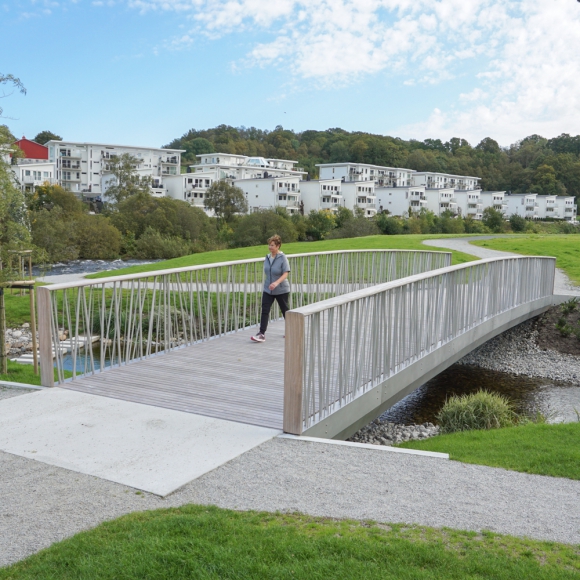 Possibilities and restraints
The maximum length of a single span is ca.16m | 52ft
Available as a flat or an arched bridge
A width of maximum ca. 300 cm | 118" is advised because of the decking material
On request the main dimensions of this product can be customized
Norm bridge: Eurocode + nat annex
Norm fence: NPR-CEN/TR 1317-6:2012