The Solid Peano Benches are L-shaped benches with a solid, closed design fitted with FSC hardwood slats measuring 7x7 cm – 2.8"x2.8". The bench is inspired by the "Peano Curve" by the mathematical philosopher Guiseppe Peano, the Curve being a line with 90 ° angles. The benches are linked with attractive joints to create an angular configuration or a straight extended arrangement. In the corner arrangement the beams are mounted in a herringbone pattern.

The new USB Power Charger can be mounted on the end of the Solid Peano Bench. On request, recesses can also be made in the support units for the installation of LED lighting or, for example, sockets. These smart options can be added to furniture in work areas or learning environments such as a university campus.

Dimensions: 219/234x46x47 cm
86"/92"x18"x19"

Products supplied within the North American market are fully manufactured in the USA.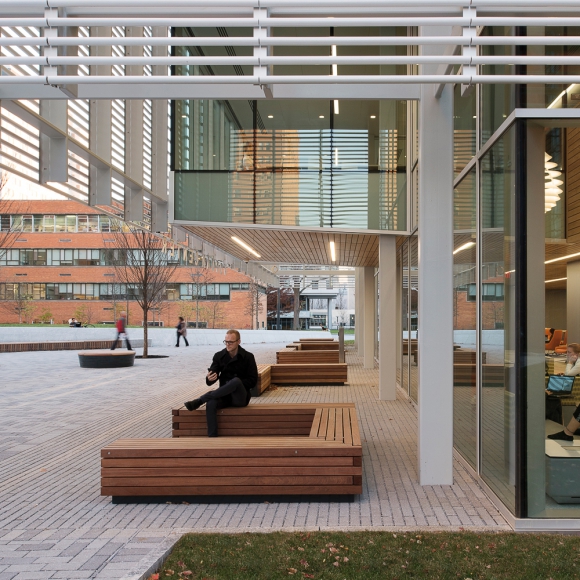 Possibilities and restraints
The standard length of a module is ca. 234 cm | 92" (individual modules within a setup can be slightly shorter than this)
By default in galvanized steel (-TH), optionally steel parts in untreated weathering steel (-CT) or finished in a double layer powder coating (-PC)