These spacious, mobile Solid Edge Green Benches are available in four different versions and two main sizes. The thick-walled CorTen sheet structure can be executed with a closed or open bottom (OB). The closed/ mobile version is easy to relocate due to recessed forklift provisions. The version with a closed bottom has 7 cm – 2.8" so that the structure rests 2.5 cm – 0.9" above the ground. The open bottom version allows shrubs or trees to take root in the ground.

The prefab slat modules with Solid slats, made from FSC hardwood or the TWIN material Cloudy Grey (7x7 cm – 2.8"x2.8"), are equipped with the stainless steel Streetlock® comb system. Solid Edge Green Benches are tightly executed and detailed and are also available with a special double-layer powder coating.

Dimensions: 180x180x47 cm – 71"x71"x19"
230x230x47 cm – 91"x91"x19"

Products supplied within the North American market are fully manufactured in the USA.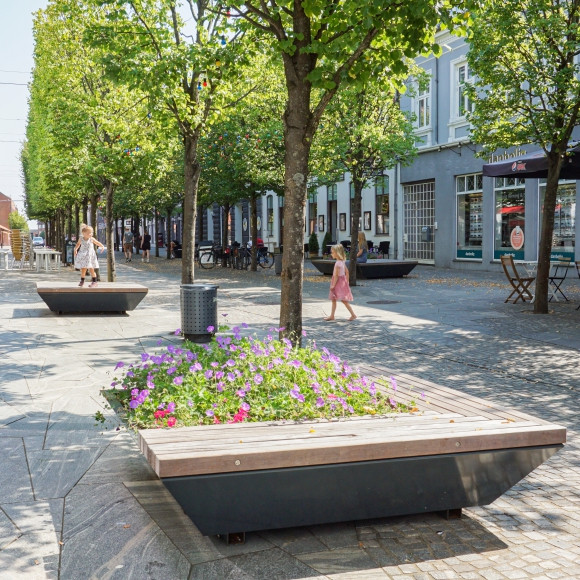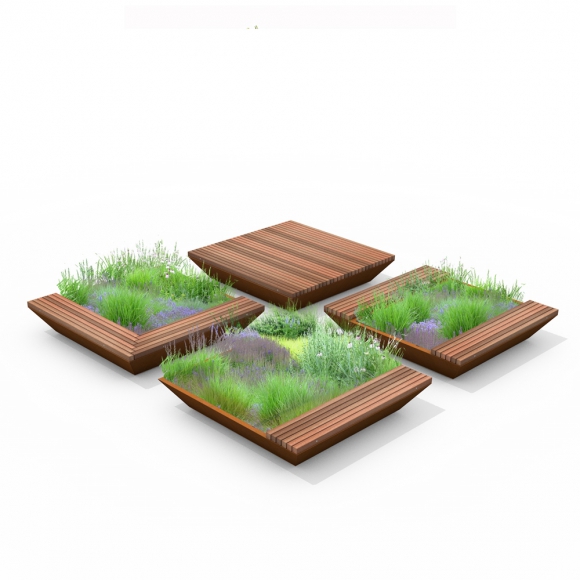 Possibilities and restraints
The tree planter, from which the benches hang, comes in square sizes of 180 or 230 cm | 71" or 91"
Several seating layout available; single sided, double sided, L-shaped or podium seat
The standard material is untreated weathering steel (-CT), optionally at a surcharge finished in a double layer powder coating (-PC)