The Solid Picnic Sets have a simple design. Both the wooden table top and the steel supports are unbroken (solid) in appearance. The table belongs to the Solid Series.The FSC hardwood slats (7x7 cm – 2.8"x2.8") are attached to Streetlock® combs, giving an 8 mm – 0.3" gap between the individual slats. The sturdy slats are attached with stainless steel rods, and anti-theft flange nuts. The closed supports made from hot-dip galvanised, CorTen or RAL powder coated steel can be anchored invisibly.

A new option for the Solid Picnic Set is the new USB Power Charger. The USB Power Charger is a waterproof, secure module made from glass-bead blasted stainless steel. It can be mounted as an extension to the end of a Solid beam, thereby affording the Solid Picnic Table with charging options for phones and laptops.

Lengths: 234 cm and 300 cm – 92" and 118"
Tabletop: 234x92 cm and 300x92 cm – 92"x36" / 118"x36"

Products supplied within the North American market are fully manufactured in the USA.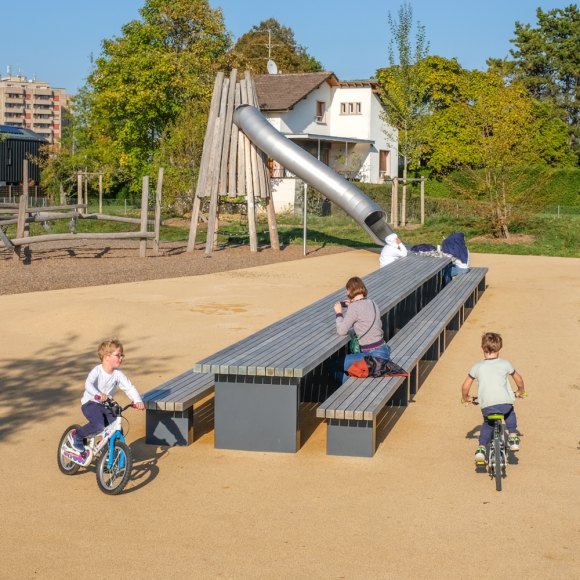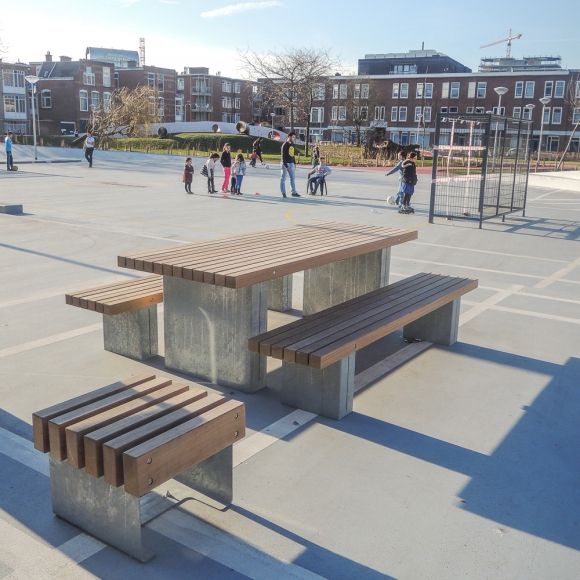 Possibilities and restraints
Available in standard lengths of ca.234 or 300 cm | 92" or 118"
Standard table depth is ca.93 cm (12 slats) |36"
On request available in custom lengths of up to ca.300 cm | 118"
Longer setups are possible with extension modules
By default in galvanized steel (-TH), optionally steel parts in untreated weathering steel (-CT) or finished in a double layer powder coating (-PC)