The Solid Meet&Work System consists of various landscaping elements with which playful configurations can be created in public places, on roof terraces and at meeting points. This is a high-quality system, ideal for the outside area of a large office building, for example. Flexible workstations and meeting areas can be combined with sustainable greenery. The combinations of benches, tables and tree planters offer innovative alternatives to traditional picnic settings.

The various elements are made from hot-dip galvanised, CorTen or powder coated steel with FSC hardwood, Cloudy Grey or Accoya Solid slats (7x7 cm – 2.8"x2.8").

The new USB Power Charger is an extremely convenient addition to the Solid Meet&Work System. The USB Power Charger is mounted as an extension to the end of a Solid beam.

Products supplied within the North American market are fully manufactured in the USA.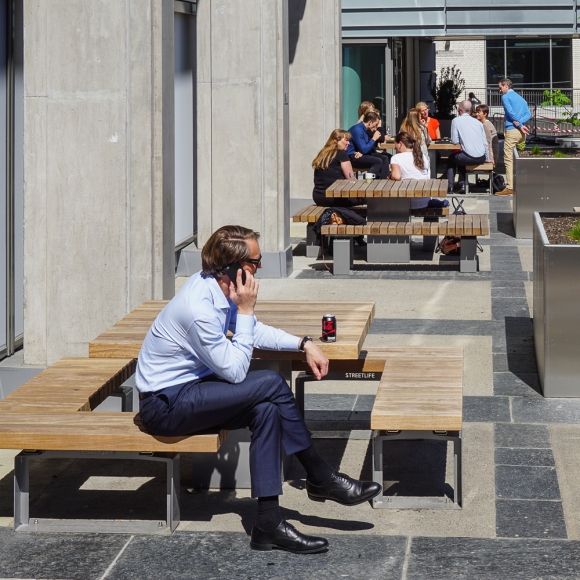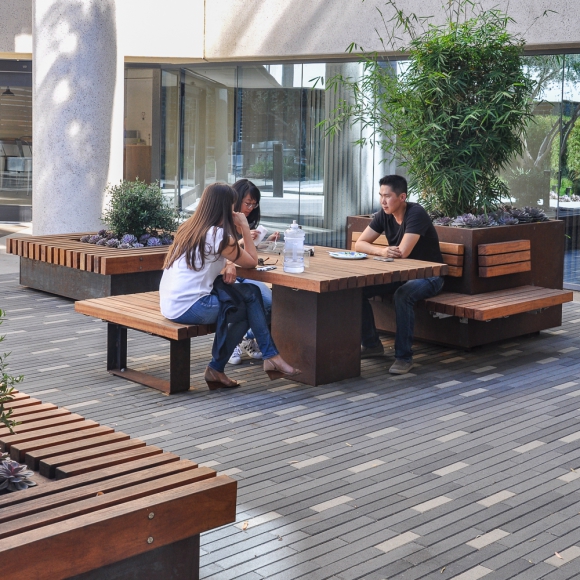 Possibilities and restraints
The tree planter, from which the benches or tables hang, comes in square sizes of 120 or 150 cm | 47" or 59"
The standard material for the planter is aluminum finished in a double layer powder coating (-AL-PC), optionally in untreated weathering steel (-CT)
Freestanding furniture in the M&W system in galvanized steel (-TH), optionally steel parts in untreated weathering steel (-CT) or finished in a double layer powder coating (-PC), hanging furniture has a stainless steel (-ST) construction