By combining the Cliffhanger Park Benches with Shrubtubs you can create flexible green areas. Upon flat pavements or concrete decks they are a simple way to introduce green and inviting seating areas. Corner benches can also be achieved and create more intimate arrangements. The thin slats have staggered ends to create finger joints between each module. The effect of these staggered slats provide a crafted finish and allow for long continuous seating along this beautiful bench.

The fine slats are available in FSC hardwood or Bamboo Brown. Bamboo Brown is a sustainable material made from bamboo fibres compressed under high pressure. Like hardwood, Bamboo Brown ages elegantly when exposed to outside air and sunlight.

Length: 264 cm – 104"
Depth tub/tub+seat: 130/197 or 130/202 cm - 51/78" or 51/79"
Height: 47/70 or 47/92 cm - 18/28" or 18/36"

Products supplied within the North American market are fully manufactured in the USA.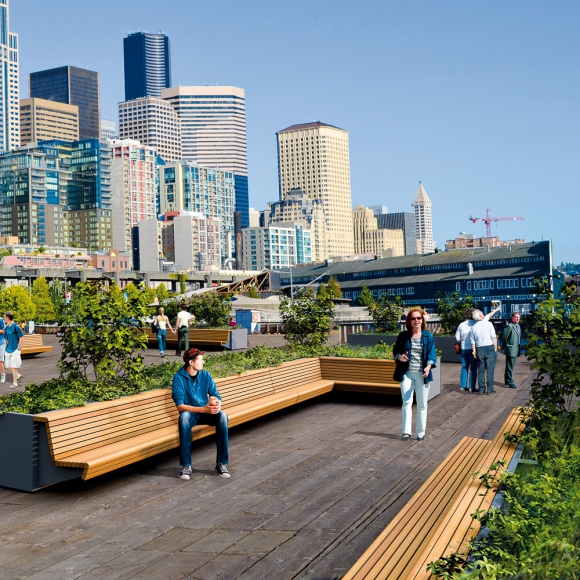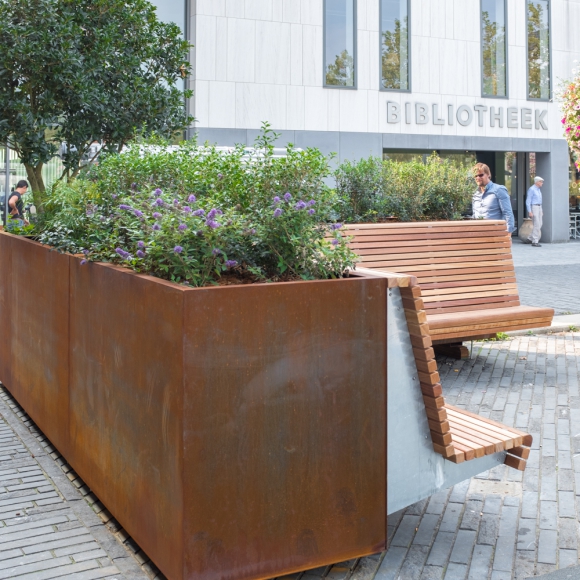 Possibilities and restraints
The standard length is ca.264 cm | 104"
Available with an open bottom (-OB version) or a closed bottom. The closed bottom version has drainage holes and 7 cm | 2.8" high forklift provisions
On request the main dimensions of this product can be customized
The standard material is untreated weathering steel (-CT), optionally at a surcharge finished in a double layer powder coating (-PC)