Standard slat sizes
By standardising applied beam sizes, we not only ensure coherence in the Streetlife Collection but also optimise production processes and reduce residual waste. Our modular elements are designed in a way that affords urban planners and landscape architects the freedom to detail a project according to their own wishes and create an integrated design. Streetlife's standard solutions are therefore ideally suited to create semi-standard as well as bespoke designs.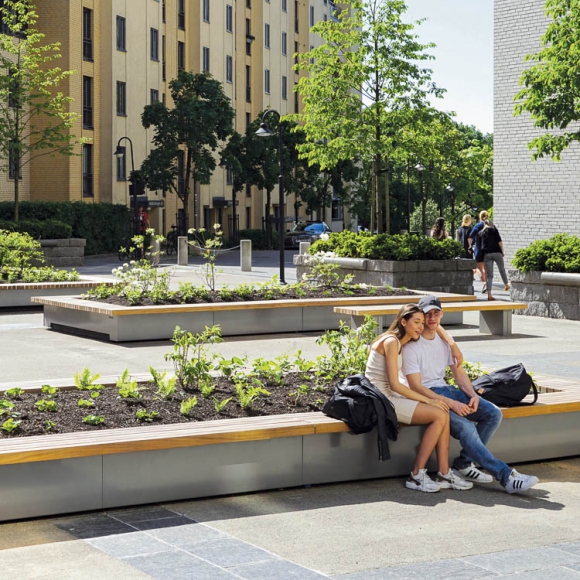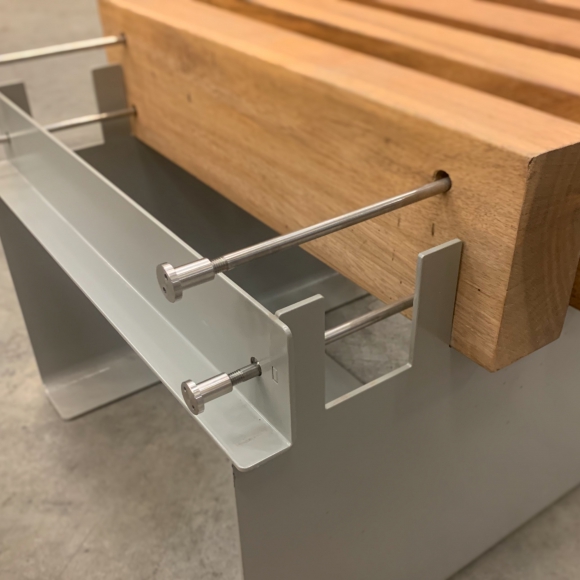 Modularity
Streetlife's products are modular and can be disassembled and reassembled. Smart detailing avoids moisture build-up, which can cause wood rot, and parts can  be replaced individually. We also use the patented Streetlock® mounting system in many of our benches. The Streetlock® system is made of 316 grade stainless steel. This high-end anti-theft solution keeps the beams in place and, at the same time, serves as a locking and fastening  mechanism. The Streetlock® system, with characteristic 'snake eye' stainless steel bolts, eliminates the need for screws. After 10 to 15 years, beams can be turned over to the 'new' side and, if damaged, they can be replaced individually. Experience has shown that this considerably extends the lifespan of the beams. The Streetlock® system thus saves time and material.
Customisation
Many Streetlife products can be customised to suit a specific project. These customisation options enable you to create unique solutions for each project whilst ensuring great product design, high quality, high level of detailing and full service (guarantees and availability of spare parts).
Because of our extensive experience with these types of projects we can quickly identify the needs and wishes for them. Our experienced sales advisors (mostly designers and architects themselves) can collaborate on proposing suitable solutions and providing necessary information for easily specifying these solutions into your project.
It is not unusual that completely new products are created this way. At Streetlife we see great value in collaboration with our clients and we warmly welcome you to contact us!